Maadwoa's murder: Inspector Ahmed Twumasi does not deserve to be in his uniform – Prophet Kofi Oduro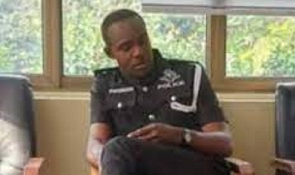 The Head Pastor of Alabaster International Ministries, Prophet Kofi Oduro, has called on the Ghana Police Service to distance themselves from the police officer who allegedly shot and killed his girlfriend over rumors of a breakup.
Prophet Oduro strongly condemned the officer's behavior, stating that he does not deserve to wear the police uniform.

Speaking in a sermon to his congregation on Sunday, April 30, 2023, Prophet Oduro expressed his disappointment at the officer's actions, calling him disgraceful and unworthy of a police officer.

He further stated that the police service should send a message to the officer that his behavior was unacceptable and that he should not be allowed to tarnish the image of the force.

Prophet Oduro also criticized the officer's personal life, stating that it was a "nonsense lifestyle" for him to be having extramarital affairs while having a wife and children.

"I don't even want to mention police because he has brought disgrace to the profession. And the police service must be able to, you know come out and detach themselves from that young man.

"He doesn't deserve to be in that uniform, because I know some very integral and very high-level people sitting here right now who are also wearing that uniform, but that nonsense the young man did, they can't do it.
"Nonsense lifestyle, you have a wife and still dating behind her, how much is your salary for you to fornicate? And we should be able to tell him, what I am saying, send it to him in police remand to watch because he has behaved foolishly, officer, you have behaved foolishly," he said.

Meanwhile, the Ghana Police Service has announced the arrest of Inspector Ahmed Twumasi, a police officer who is suspected of shooting and killing a woman believed to be his girlfriend.

The incident took place on Thursday, April 20, 2023, in Kumasi, the capital city of the Ashanti Region.

Following the shooting incident, the suspect went into hiding, and a special police operation was launched to track him down.

The operation, according to the police, eventually led to the suspect's arrest on Sunday, April 23, 2023, in Sekyere, near Effiduase in the Ashanti Region.

Share your news stories and ideas with GhanaWeb


To advertise with GhanaWeb




AM/BOG