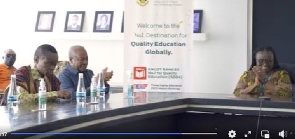 Former President John Dramani Mahama and renowned African academic, Prof P.L.O. Lumumba, paid a courtesy call on the Vice-Chancellor of the Kwame Nkrumah University of Science and Technology (KNUST), Prof Rita Akosua Dickson, on Thursday, July 28, 2023.
The two were at KNUST for the 11th President John Evans Atta Mills Commemorative Lecture, which was held on July 27 at the KNUST School of Business Post Graduate Auditorium.

Mahama, the presidential candidate of the National Democratic Congress (NDC), thanked Prof Rita Akosua Dickson for allowing the John Evans Atta Mills Memorial Heritage to hold the commemorative lecture at the university.

The former president also thanked Prof P.L.O. Lumumba, who was the guest speaker for the lectures.

"Thank you (the Vice-Chancellor) for taking time off and the sacrifices you have had to make to accommodate us.

"We are looking forward to a very successful programme. I know it would be because my comrade here (Prof Lumumba) is one of the leading pan-Africanist. It is just a joy to hear him speak," Mahama said.
Prof Lumumba also thanked the organisers of the lecture for giving him the opportunity to share his thought on the late Prof John Evans Atta Mills.

The vice-chancellor, in her remarks, said it was an honour for the university to host the lecture.

She took the opportunity to brag about her university being the best in Ghana.

Watch a video of the event below:


BAI/NOQ

Watch the latest episode of the Lowdown on GhanaWeb TV below: