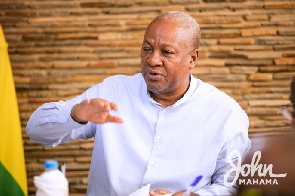 Veteran journalist Kwesi Pratt Jr. has said that former President John Dramani Mahama, was consulted about the decision of the national executive of the National Democratic Congress to change its leadership in parliament.
According to him, his sources who were privy to the meeting between the former president and the executives of the party told him that Mahama was not so enthused about the move.

"The former president did not endorse this. I have spoken to many people, and from what I'm told unless those who spoke to me are a bunch of bloody liars and so on, the former president did not appear to be very happy about this arrangement," he added.

"And if he [Mahama] cautioned against this move, I think it is most unfair to state publicly that he was involved in arriving at this decision. You understand, because you put him in a tight corner, that he cannot come out and say, I disagree with the national executives. It is most unfair, most, most unfair to treat the former president this way.

"I spoke to many friends, and the impression I got was that the former president did not endorse this," Kwasi Pratt is reported to have said by newstitbits.com in an interview on Good Morning Ghana, on Wednesday, January 25, 2023

The NDC leadership appointed the former Deputy Minister of Finance, Dr. Cassiel Ato Forson, as the minority leader in the 8th Parliament of Ghana's Fourth Republic.

According to the NDC, Kofi Armah Buah, MP for Ellembele, will take over as the Deputy Minority leader.
While Kwame Governs Agbodza, MP for Abaklu, he will replace Asawase MP Muntaka Mohammed as the Chief Whip.

Ahmed Ibrahim, MP for Banda, has been maintained as the First Deputy Minority Whip, while Comfort Doyo Cudjoe-Ghansah, MP for Ada, is the Second Deputy Minority Whip.

This was contained in a letter to the Speaker of Parliament, Alban Bagbin, from the National Democratic Congress dated January 23, 2023.



IB/BOG