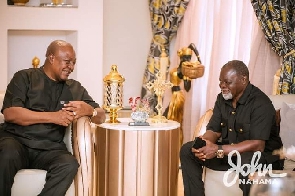 Ghanaian musician, Kojo Antwi and former Ghanaian boxer Azumah Nelson have visited former President John Dramani Mahama.
The two visited Mr Mahama at his residence.

In a Facebook post, on Sunday, 2 April 2023, Mr Mahama wrote: "My sincerest condolences to my friends, 'Professor' Azumah Nelson for the loss of his mother and Musician Kojo Antwi who has lost his father. "

"It was an honour to receive them and their families at our residence. Lordina and I once again express our condolences to them," the former President and flagbearer aspirant of the main opposition NDC added.

The musician lost his dad, Opanin Kwadwo Asiamah Asubonten, on Monday, 2 January 2023.

His 40-day observance ceremony was held on Saturday, 11 February 2023, ahead of the main funeral.
He was 104.

The former boxer's mother also died on Monday, 2 January 2023 at the age of 86.

She was buried on Saturday, 11 March 2023.