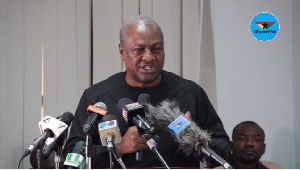 NDC Member of Parliament for Tamale Central, Hon. Inusah Fuseini has revealed that until the day of the controversial Tamale peace walk, he never knew the organizers neither did former President John Dramani Mahama.
Former President John Dramani has been lambasted by some party supporters and senior members of the NDC, for organizing what they termed as a ''needless peace walk''.

He has also been described as an arrogant person who does not have regard for party structures and one such individual who attacked the president on Rainbow RADIO Radio 87.5Fm was Andy Kankam, the Editor-In-Chief of the Informer Newspaper.

But responding to the comments on the peace walk, Hon. Fuseini expressed his displeasure saying, he sometimes become disappointed at the comments by some members of the party.

''I've read and heard some of the comments and sometimes I become very disappointed. To be honest with you, apart from the day the unity walk was organized, I did not know the organizers. And I can tell you as a matter of fact that former President Mahama had no idea who the organizers were.

Explaining how the event was organized he said, '' I saw the event on a platform and whiles I was trying to see what the whole thing was about, I received a call inviting me to the event and when I asked, I was told it was being organized by the National Organizer and former KMA boss, Kojo Bonsu.

They also requested the attendance of former president and when I asked why they wanted him to attend, the organizers told me that the region would be celebrating the Damba dance and when he [Mahama] comes, he will participate in the festival.
So I called the former president's office and they asked about the organizers but I asked if it was necessary for him to know the organizers since it was his region and has become a senior statesman in the party and was the one who represented the party in the 2016 presidential election. So he agreed to participate.''

He insisted that the peace walk was not about campaign launch but it was about removing the despondency from people after the party's defeat. ''It was not about campaign launch.

It was not about even the campaign of former President Mahama for the NDC for the flagbearership. It was how to work on the psyche of the people, how to remove the despondency and disappointment from the NDC and it supporters that emerged after the defeat.

How do we show that this party is still as relevant as it was in power as it is now in opposition? How do we ginger up the people to know that anything in future is people? He emphasized that if you have a veritable institution, it doesn't matter