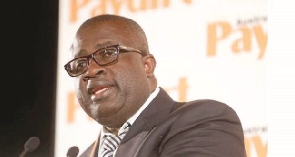 Former Chief Executive Officer (CEO) of the Minerals Commission, Dr. Tony Aubynn has refuted claims making rounds that the previous National Democratic Congress (NDC) government collapsed the AngloGold (AGA) Obuasi Mine.
Dr Aubynn who was speaking on Ete Sen on Radio XYZ 93.1 Wednesday morning noted the Obuasi mine was closed in 2014 due to some challenges with the concession and lack of capital.

"The company informed the then government of its intention to shut the company for sometime. We initially objected but the technicalities involved demanded that they closed down although government was to lose revenue," he explained, adding that "the previous government can't be blamed for that."

Dr Aubynn also said the reopening of the company was laudable although it was anticipated from the day it was shut down, since the period was to allow the company to do extensive work for effective mining in 2019.

The mines before the shutdown, suspended essential services following clashes between illegal miners and some of its staff, leading to the death of the company's Communication Director, John Owusu.The security situation at the mining company, became delicate forcing the Police to partially withdrawn security men stationed on the company's concession

President Nana Akufo-Addo, joined by the Asantehene, Otumfuo Osei Tutu II, cut the tape to reopen the mine on Tuesday, January 22,2019.
"In order to help AngloGold Ashanti secure the needed investment for this project, the government had to provide a number of fiscal incentives and guarantee the stability of the project against changes in the legal environment, especially in the early years of the mine's operations," Mr Akufo-Addo said.

The initial investment in the redevelopment project, the president announced, is $881 million, with a total investment of $1.6 billion projected for the entire 22-year life of the mine, and added that "the whole investment package has been approved by Parliament," he explained."

The government is expected to rake in about US$2.16 billion in revenue over the next 22 years, in royalties and corporate and withholding taxes.

The Obuasi mine is expected to create 2,500 jobs.

The Mine Workers Union has described the investment by the company as welcome news but there is still uncertainty about how many of the jobs will be immediately created.