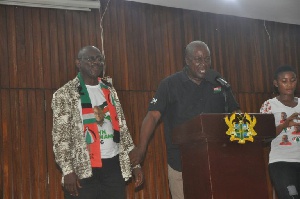 President John Mahama has endorsed the candidature of Jonny Osei Kofi as the National Democratic Congress parliamentary aspirant for Oforikrom constituency.
Mahama described the former lecturer and Deputy chief of staff as a very humble and industrious person who can spearhead development in the constituency.

The former lecturer has been conspicuous on the ground with developmental projects even before he went unopposed on the ticket of the governing party.

On 16th August this year, Mr. Osei Kofi is said to have swiftly intervened to ensure that the bad lighting system on the campus of Mampong Midwifery Training School was stabilised to enhance studies at night for their examinations, as well as the construction of a bridge at Sobolo, boreholes among others.

Introducing Jonny, who is the Deputy chief of staff at the presidency to a teeming crowd of students and NDC supporters at Kwame Nkrumah University of Science and Technology, Mahama said he has been impressed with his dedication and passion to help humanity, as well as his humble nature and believes he will be the best to lead Oforikrom.
Mahama, who is seeking a second term in office come December 7 elections, said

"This is Jonny Osei Kofi, a very humble and hardworking man and once a lecturer of this university. He's your own man and I strongly believe you'll vote massively for him and the NDC".

In an interview with Jonny Osei, he said "I'm indeed grateful to the president for making Oforikrom a port of call on his campaign tour of the Ashanti Region, despite earlier challenges. I promise to live up to this trust he has in me to represent the NDC in my constituency," he said.