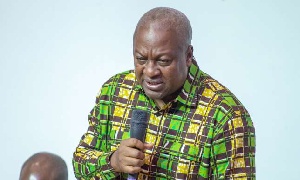 Former President John Dramani Mahama has expressed dismay over the decision by the government to include second-year Senior High School (SHS) students in the double track system.
Despite the government's claim that the double track system was not going to affect second and third-year students, all second-year SHS students are still on vacation, with some due to go back to school in late February and in March.

The unfortunate situation has become a matter of concern for Mr Mahama who says it is not proper to keep the students at home for such a long time, and he is putting the blame squarely on the government for causing the chaotic in secondary education.

Mr Mahama said this when he addressed delegates of the National Democratic Congress (NDC) at Sefwi-Akontombra on Sunday as part of his five-day flagbearership campaign tour of the Western Region.

He says attending SHS is a one in a lifetime experience for students and it is, therefore, dangerous for any government to mismanage secondary education as the NPP government is doing.
Mr Mahama denied that an NDC government would collapse the free SHS system, saying that the next NDC administration will rather strengthen Free SHS by making the appropriate interventions for correcting the mess created by the government.

He has repeatedly pointed out that his next government will eliminate the double track system by investing in additional classroom and dormitory blocks with commensurate teaching and learning materials to enable all students attend school at the same time and ensure adequate contact hours between teachers and students.

Mr Mahama has also promised to complete the remainder of the 200 Community Day Senior High Schools, which were started by his government and has been abandoned by the current