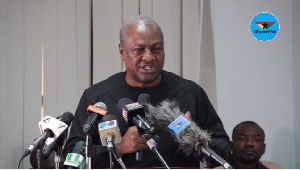 The Brong Ahafo Regional Youth Organizer of the New Patriotic Party (NPP) Kwame Baffoe was popularly known as Abronye DC has accused musician cum politician Kwame A Plus of taking Jaguar and money from former President John Mahama.
According to him, he then became a critique of the NDC party not the former President John Mahama who was the leader of the NDC government which supervised corruption in Ghana.

The Brong Ahafo Regional Youth Organizer of the New Patriotic Party Speaking on Okay FM's 'Ade Akye Abia' programme accused Kwame A Plus of being very corrupt.

He added that A Plus' behaviour has pissed many party supporters.

"A Plus will only like you when you show him your bank accounts and ask him to take it," Abronye told Kwame Nkrumah Tikese.

"John Mahma bought a Jaguar (car) for Kwame A Plus and took money from him so he should stop saying he was attacking John Mahama," he added.

A Plus in a Facebook post, had described deputy Chief of Staff, Mr. Francis Asenso-Boakye as "stupid and corrupt" adding that he and a colleague Samuel Abu Jinapor are not only corrupt but very arrogant.
An allegation the Police CID's investigation has revealed were false and baseless.

A Plus in defense said the two [Jinapor, Asenso-Boakye] are being shielded by the police just to protect the presidency, a claim Abronye describes as a plot to undermine the police administration and a senior police officer.

"He who is calling for equity rather has the dirtiest hands but has turned around to accuse people of being corrupt," he said.

"I have been an ardent supporter of the party. I was a grass root supporter and a polling agent whilst in school during the 2000 elections which brought former President Kuffour to Power. Does he know the number of grass root supporters I support financially even at my constituency, but I have not received any dime from any member of the party yet am still working for my party," he added.

Abronye DC has vowed to put a stop to A Plus from speaking about issues relating to the NPP government.