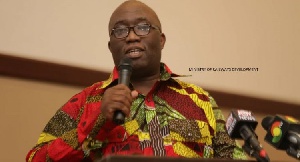 The government of President John Mahama, in 2016, sold 100 defective coaches as scrap, the Minister of Railways Development, Mr Joe Ghartey has revealed.
"In 2016, over 100 coaches were sold as scrap", Mr Ghartey reported to President Nana Akufo-Addo on Wednesday, 4 December 2019 when they both addressed workers of the Ghana Railway Company Limited (GRCL) at the Diesel Multiple Unit (DMU) workshop in Tema on the last day of the President's three-day tour of the Greater Accra Region.

Mr Ghartey said: "In 2017, we decided that we would review the policy of selling coaches as scrap and we will see whether it is possible to refurbish some of the coaches".

"A brand-new coach, Mr President, costs about $500,000", Mr Ghartey revealed, adding: "The cost of refurbishing is about $50, 000".

"Out of the 27 coaches that were left after over 100 were sold as scrap, we have repaired 10", Mr Ghartey noted.
For his part, President Akufo-Addo commended the staff of GRCL for their efforts at refurbishing the country's old coaches, saying: "I am very impressed to hear that the old policy of selling coaches as scrap has been, itself, scrapped and that this new policy of repairing our coach stock has already produced such positive results".

The President said his government is revamping the "deteriorated" railway sector by building a first-class rail network in Ghana.

The British, he said, "left us a functioning railway system, we didn't look after it, and we allowed it to deteriorate. For this part of the 21st century, a major responsibility is on you, on me, my successors, to rebuild the railway infrastructure in our country".

"It is obvious that rail transport is environmentally-friendly, it is efficient, it is less costly and it is generally a more intelligent way of moving people and goods than any other form of transport. Other people have got first-class railway systems in the world, Ghana, we are going to have a first-class railway system in our country", President Akufo-Addo promised.