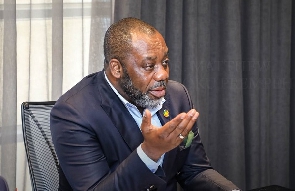 Member of Parliament(MP) for Mahyia South Dr Mathew Opoku Prempeh has observed that John Dramani Mahama has roamed Ghana for six(6) years but failed to outline one policy directive he intends to introduce when brought back to power.
He says it is shocking that John Dramani Mahama after climbing the political ladder is only known for "Dumsor" and other notorious scandals that happened under his watch.

NAPO who is advocating for three months of campaign in Ghana's political calendar says political parties should be banned from campaigning immediately after elections in order to give the elected President the opportunity to cover the country and the had to govern.

"The country must be covered by the elected president and given the hand to show that he's governing not people going everywhere and in six years not show even one policy direction he will take. Not even six years, fourteen years till now they have been in power they have not provided any policy direction," he said while speaking to Accra-based Asaase Radio in an interview.
"Even me NAPO I am proud to say I led Free SHS even though it is not my vision. That's the president's vision and I led it and we succeeded," he said indicating that the NDC and John Dramani Mahama over the years have had no vision for the country and just want power without any direction.

He indicated that the people of Ghana will be provided with a choice of two people who have tasted the Jubilee House and will be given the opportunity to elect one for his vision for the country.

But to him, Ghanaians will continue to vote for the New Patriotic Party (NPP) because it is the better option and the political party that has provided the people of Ghana with policy directive that has transformed the country.