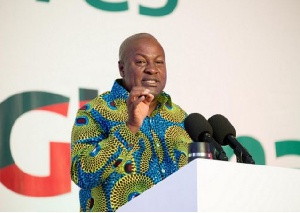 The Eastern regional communications director for New Patriotic Party (NPP), David Prah has described former President John Dramani Mahama as a goat.
The maverick politician who was making a contribution on Rainbow Radio 87.5FM said, the president who in 2016 told Ghanaians that he had a dead goat syndrome, is rather a living goat and not a dead goat.

According to him, the former president has the penchant of insult and does not have respect for his political opponents.

George Prah said, the former president, who used George Orwell's Animal Farm pig analogy to describe how politicians deceive the public to vote for them, described the appointees as pigs.

Mr. John Dramani Mahama who was reacting to George Ayisi Boateng's discriminatory comments he made recently slammed Nana Addo and likened the leadership of Nana Addo to George Orwell's 'Animal Farm' where the animals said, 'all animals are equal' but in a bid to justify why they were enjoying the pigs changed the phrase to ''all animals are equal but some are more equal than others''.
These comments according to the NPP communicator were a direct insult to Ghanaians and therefore called on the former president to render an unqualified apology to Ghanaians or the NPP will also organize a press conference to attack the former president in an equal measure.

Mr. Mahama he posited lacks self respect and wondered why he became a president of the republic of Ghana.

He further admonished President Nana Addo Dankwa Akufo-Addo not to prevent members of the NPP from attacking Mr. Mahama in the same measure he did.