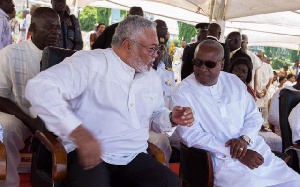 Former Presidents Jerry John Rawlings and John Mahama are joining hundreds of supporters of the opposition National Democratic Congress(NDC) to mark this year's 31st December Revolution in the Volta Regional Capital, Ho, Sunday.
The revolution brought the Military Junta, the Provisional National Defence Council(PNDC) led by then Ft. Lt. J.J Rawlings into power in 1981.

There will be an annual ritual of wreath laying and lighting of the perpetual flame at the ceremony.
According to the NDC, the event will be preceded by a route march and durbar of chiefs. The occasion is being marked under the theme: Uniting around the principle of Probity, Accountability and Social Justice.