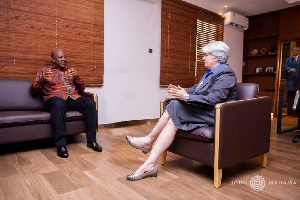 Former President John Dramani Mahama has justified his recent meeting with members of the diplomatic corps.
Mr Mahama had met the corps on Wednesday and briefed them on what transpired during the Ayawaso West Wuogon by-election.

The former leader had shown the foreign envoys videos of the violence, which has been under investigation by a Commission of Inquiry set up by the president, Nana Addo Akufo-Addo.

But Senior Minister Yaw Osafo-Maafo had taken exception to the meeting, describing it as "unpatriotic and shameful".

"It is shameful and hypocritical on the part of Mr Osafo-Maafo that he had the temerity to describe Mr Mahama's meeting with diplomats the way he did, especially when the Senior Minister still serves in the Akufo-Addo government under whose watch state-sponsored goons with weapons and Police SWAT Hunter Vehicles were unleashed on voters," a statement from the John Mahama campaign team said on Friday.

The violence during the January 31 by-election left at least 18 persons hospitalized.
There was public outrage over the presence of masked armed men at some locations within the constituency during the elections.

Operatives of the National Security were also on the grounds in uniform, a situation which many found esoteric.

The National Democratic Congress (NDC) had withdrawn from the elections even before it ended due to a commotion at the residence of its candidate, Delali Kwasi Brempong.

"For the avoidance of doubt, former President Mahama acted fairly and appropriately by taking a pre-emptive step to galvanise public support to save Ghana from the looming catastrophe fueled by the NPP and its thugs ahead of the 2020 elections," the statement explained.

For the John Mahama campaign team, what he did was just routine.
"If that was 'unpatriotic and shameful' as Mr Osafo-Maafo put it, then he must lay the blame squarely at the doorstep of those who sponsored the NPP thuggery on the day of the by-election.

"It must also be pointed out that it is not unusual for government, opposition and other key opinion leaders to routinely brief stakeholders, including the international community, on major developments in the country.

"Indeed, this practice is not alien to the NPP. Instead of Mr Osafo-Maafo and his cohorts worrying their heads over who is being briefed, they should concentrate on arresting the perpetrators of the mayhem and bringing them to justice."