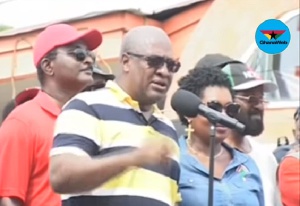 New Patriotic Party communicator, Edmund Kyei says it is shocking for former President John Dramani Mahama to describe the $2.5 million Ghana Post GPS application by the Nana Addo-led government as '419'.
According to him, the former President must learn the proper usage of the figures which are widely associated with corruption.

"It came as a shock to me when I heard former President Mahama talk about the $2.5 million Ghana Post GPS application being 419. I see 419 as an old description for corruption which I think as old as Mr. Mahama is, he should understand the use of 419," he noted.

John Mahama described the recent launch of the Digital Addressing System by the Akufo-Addo government as pitiful and embarrassing.

He does not understand why the President was made "to launch a Google GPS system that is freely available on our mobile phones and say it is a national addressing system."

"Why will you embarrass the President so much? You go and take a whole President to bring him to come and launch a system that is 419," Ex-Prez Mahama said.

Mahama's comments compelled Deputy General Secretary for the opposition National Democratic Congress (NDC), Koku Anyidoho to indicate that the Vice President Dr. Mahamudu Bawumia will be hauled before the Special Prosecutor over the $2.5 million Ghana Post GPS application.
According to him, Dr. Bawumia will be put to test by the Special Prosecutor the NPP government wants to introduce to answer questions involving the fraudulent $2.5 million Ghana Post GPS application which the Vice President claims to be unique, but has turned out to be irrelevant.



But Edmund Kyei in an interview with Peacefmonline.com says both the former President and Koku Anyidoho have little knowledge on the claims they are making.

"When a Government of the day uses the resources of his country rightfully and invest in projects that seek the welfare of his country, I don't think it should be described as 419," he said.

"The most shocking part of his [Mahama] speech was saying the addressing system is already free on google, the question we all ask ourselves is since when did browsing on google become free?" he quizzed.

Edmund described Mahama's accusations as an "Adoption to score political points ahead of the next elections after their embarrassing defeat. I thought they have learnt their lessons from propaganda but I can see propaganda is their favorite dish they take every day."


"Nowhere in the world can google help you identify a location without you having a special addressing system. I will use this opportunity to tell the NDC to introduce technology as a course in their school since they lack a proper understanding of modern technology," he added.

He added that "Mahama sees the addressing system as 419 but his 3.5 million bus branding, 51 million to Woyome for no work done, the rot at GYEEDA, SADA, ISOFOTON and many other corrupt acts during his time as holy."

"I knew Koku Anyidoho was born in the computer world so I thought he had much understanding of the digital addressing system. Koku Anyidoho also do not understand the work of the Special Prosecutor. The sSecial Prosecutor will not engage in witch hunting but will deal with corrupt acts."

"The NPP Government shall protect the resources of Ghana and any resource in the hands of any Ghanaian will be taken back," he noted.