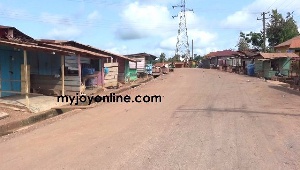 The Catholic Church in the Central region has held an historic mass at Denkyira- Obuasi in the Central region in relation to the slain soldier, Major Adam Mahama who was lynched by locals of the town.
The well attended mass according to the Catholic Archbishop for the Central Region Most Reverend Mathias Kobina Nketsiah was to provide spiritual support for many in the town who have been going through trying moments following the unfortunate lynching of Major Maxwell Adam Mahama in the town.

He explained that although the action of the people is inhumane and unjustifiable , there is the need to comfort the hearts of the people to come out of the stigma and grief that has come with their actions as many in the area are struggling to find their feet again in life.

He added that the fact that people of Denkyira-Obuasi have been in the news for the wrong reasons is enough for them to lose hope in life and therefore needed to be comforted to pick up the pieces once again and also be urged to shun such inhumane acts.
Most Rev. Kobina Nketsia exhorted the people not to repeat that action as it is not only barbaric but inhumane and ungodly to do that, adding human life must be valued in all situations at the expense of everything in life .

The service was also used to pray for the departed soul of late Major Maxewell Mahama. – Kwaku Baah-Acheamfour