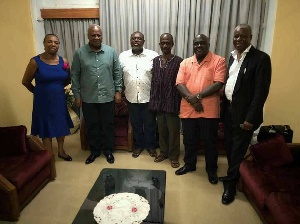 Former President Mahama has met embattled Deputy General Secretary of the opposition National Democratic Congress (NDC), Koku Anyidoho at the Criminal Investigative Department (CID) Headquarters almost 24 hours after the latter was arrested.
Mr. Anyidoho is in police custody for threatening that there will be a "civil revolt" in the country prior to the Ghana-US Defense Cooperation Agreement ratified by Parliament last Friday.

In an interview on Accra-based Happy FM, Anyidoho indicated that President Akufo-Addo will be overthrown just like his father and the late Dr. K. A Busia due to the ratification of the controversial defence cooperation agreement between the US and the government of Ghana.

"Somebody should tell Nana Addo that history has a very interesting way of repeating itself. On the 13th of January 1972, a certain Colonel Ignatius Kutu Acheampong led an insurrection that removed the progress party from power. Busia was the Prime Minister and Akufo Addo's father was the ceremonial President. Someone should tell Akufo-Addo that history has an interesting way of repeating itself," Anyidoho warned.

"There will be a civilian coup d'état. There will be a social revolution. We [NDC] are starting it on Wednesday. The movement is starting on Wednesday. Nana Addo will have sleepless nights. He will suffer diarrhea. He said he wanted to be president, but we will make sure he will be fed up on the seat,'' he noted further.


Mr. Anyidoho was picked up at the International Press centre on Tuesday to assist the police with investigations and spent Tuesday night in the custody of the police after being charged with treason.

Leading members of the NDC have condemned the manner of the arrest and demonstrated their displeasure as they walked to the CID headquarters to demand Mr. Anyidoho's release.



Former President Mahama who arrived from election-observation duties in Sierra Leone was driven to the Police CID headquarters, Wednesday evening to commiserate with Anyidoho. He is reportedly trying to negotiate the release of Anyidoho but reports suggest the NDC executive has been denied bail.

Mahama was accompanied by Asiedu Nketia, NDC General Secretary; Julius Debrah, former Chief of Staff; and Betty Mould Iddrisu, former Attorney-General.


Meanwhile, the Accra High Court has ordered the Police CID to seize some essential electronic gadgets on which information related to the alleged treasonable comments made by Koku Anyidoho are said to be stored. The items to be seized under the order include laptops, iPhones and ipads.

Justice Patience Mills-Tetteh gave the order on Wednesday following an ex-parte motion issued at the court by the Police. The order also permits the police to search and seize electronic devices of 'agents' of Anyodoho.