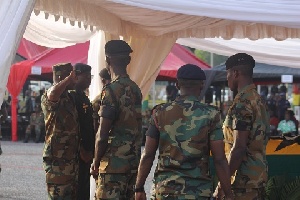 The Member of Parliament for Effutu, Alex Afenyo-Markin, has applauded the Ghana Armed Forces for exercising restraint in the wake of the murder of Major Maxwell Adam Mahama.
According to him, the military needs a lot of commendation for not taking the law into their own hands by resorting to violence to avenge the death of the soldier who was lynched by a mob at Denkyira Obuasi in the Central Region on suspicion that he was an armed robber.

Speaking on Newsfile on Multi TV on Saturday 10 June, the lawmaker said he hoped the military would continue to respect the rule of law, even in the face of provocations.

He told show host Samson Lardy Anyenini: "I would like to commend the military for their rather patient attitude and posture, because what happened to this young man and the feeling at the barracks, if the leadership or their big men had not restrained them, I think something else may have happened."

In response to assertions that the military had no choice but to respect the laws of the land and allow the processes to work because that was what democracy demanded, Mr Markin remarked: "But we are in a democracy and some people took some people's lives. So I'm trying to say that let's commend them for behaving in a mature way and respecting our law.
"If you listen to very senior officers, they responded to what happened to Major Mahama with a lot of emotion. You have taken somebody's life, burning him, very emotional, so we have to commend them for exercising restraint and respecting the law and we hope that it will continue."

Mr Markin was of the opinion that Major Mahama's "death and his painful departure" should also serve as an end to mob justice, adding: "It is never right and it must not happen."

Major Mahama was buried at the Osu Military Cemetery on Friday, 9 June, 2017.