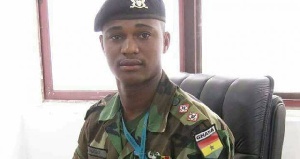 The gruesome murder of Captain Maxwell Mahama by some irate youth of Denkyira Obuasi in the Central Region has exposed Ghana as a nation that tolerates impunity, Sulemana Braimah, Executive Director of the Media Foundation for West Africa (MFWA), has said.
Captain Mahama was lynched by an angry mob at Denkyira Obuasi in the Central Region on suspicion that he was an armed robber on Monday 29 May when a group of people he asked directions from spotted a pistol on him. His death has been condemned across the nation.

But according to Mr Braimah, similar incidents have occurred in the country in the past with hardly any effort to punish culprits, a clear indication of how the country has tolerated lawlessness.

In a Facebook post, Mr Braimah said: "My week has since been devastated. I haven't had the courage and fortitude to read or listen to any updates about his gruesome murder. I just can't. Hearing anything about him pierces my heart and tears me apart. I don't remember the last time I felt this way and I pray I overcome it soon.

"Here was an obviously handsome, intelligent, smart young man who opted to be a defender of our nation and died in the service of our nation. He did his part. We failed him.
But Captain Mahama did not only die in the service of our nation. He will be remembered as a gallant soldier whose death exposed us as a people and a nation that tolerated and befriended impunity until we were consumed by it. Yes, such is the character of our nation today.

"Quite obviously and sadly, instances of persons being lynched on suspicion of being thieves or armed robbers had been on the rise. Such cases have always been reported. Unfortunately, because of who the victims of such cases are, their deaths are usually simply reported in the media and concluded with promises of investigation by the police. That's it! Next will be another report of mob justice and another round of promises from the police. The cycle has continued unabated."