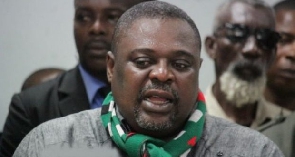 Former Deputy Secretary of the National Democratic Congress (NDC), Koku Anyidoho, has urged ex-President Mahama to clear his name on the accusation that he partly masterminded the shakeup in the leadership of the Minority Caucus.
The largest opposition party has made changes to its leadership in Parliament with the appointment of Dr. Cassiel Ato Forson as Minority Leader.

The party has also appointed MP for Ellembele, Kofi Armah as Deputy Minority Leader and Adaklu MP, Governs Kwame Agbodza as the new Minority Chief Whip, respectively.

But the party's latest appointment is clearly very unpopular among the NDC faithful, especially the Minority Caucus, with many of the MPs claiming they are shocked by the move as they were not consulted. Some have proceeded to file a petition asking the party to rescind the decision.

The National Chairman, Asiedu Nketia, General Secretary, Fifi Kwetey and ex-President John Mahama have been accused of being behind the shakeup, an exercise some have described as a coup that will cause huge disunity among NDC MPs and could also affect the party's electoral fortunes.
Commenting on the issue in an interview on Ghana Kasa show on Kasapa 102.5FM/Agoo TV Friday, Koku Anyidoho urged the former president not to remain silent over the allegation leveled against him.

"What will bring finality to this matter is that the ex-President must speak, he ought to clear his name. He shouldn't put out a statement on Facebook or Twitter. Ex-President Mahama, we want to hear your voice on this matter which portends a disaster for the party. What is happening within the NDC is apocalyptic chaos, cataclysmic and the ex-president has been accused of being partly responsible, hence he must certainly speak.

"Ex-President Mahama is a member of the Council of Elders of the NDC and his name together with that of Asiedu Nketia and Fifi Kwetey has been mentioned specifically in relation to this matter. He cannot remain silent. The two are talking, they won't change their mind and the chaos in the party is escalating. The ex-President is the only one who has not spoken, he ought to make his voice heard. It is very important that he speaks to clear his name."