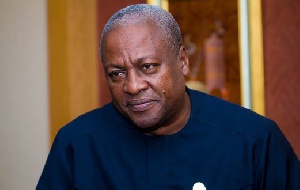 A member of the Communications team of opposition National Democratic Congress (NDC), Agbesi Nutsu, has asked former President to dissociate himself from an endorsement by all 10 NDC regional chairmen, describing the move as shameless and sycophantic.
All ten regional chairmen of the National Democratic Congress (NDC) want former President John Mahama to lead the party's effort to reclaim the Flagstaff House in the 2020 elections.

In an interview with Ekourba Gyasi on Atinka AM Drive, Agbesi Nutsu, condemned the act and called on the national executives to act accordingly.
"This is another shameful event, it is unbelievable that regional chairman who were supposed to lead the reorganization of the party in their various regions, could ignore all that and go about issuing sycophantic statements," he fumed.

He added that the topmost priority of every NDC member currently is to take the necessary precautions to rejuvenate the party for a comeback in 2020 and the releasing of unnecessary statements.