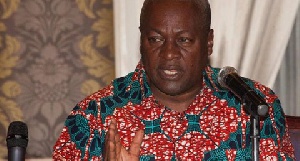 Cape Coast Youth Development Association (CCYDA) has called on Former President John Dramani Mahama and the leadership of the National Democratic Congress (NDC) to act to save the abandoned Atta Mills Presidential library.
They said "it will be a scar on the conscience of the Former President Mahama and the leadership of the party if the ultra-modern facility is left to rot."

According to the group, the reopening of the facility would help to protect and preserve the life and integrity of former President John Evans Atta Mills.

The state of the art facility had been closed because of the inability of the Committee set up to oversee its construction to pay the contractors.

It was inaugurated by former President John Dramani Mahama on Sunday, July 24, 2016 to promote academic research and generally improve education in the Metropolis.

However, the magnificent library is fast deteriorating and losing its beauty and essence after years of neglect by authorities.
The deterioration had been compounded by its proximity to the sea which was decomposing the metallic objects and air conditioners.

Addressing a press conference on Wednesday, Mr Richard Bekoe, Secretary of the group stated that the research centre befitted the life of late Prof Mills who was a renowned academician, sportsman, a politician and a peace-loving Ghanaian.

They had earlier on called on President Nana Addo Dankwa Akuffu-Addo to as a matter of urgency ensure that the library was opened for use.

They stated the opening of the library would create employment for the youth in the area and significantly reverse the falling standards of education in the metropolis.

In addition to safeguarding Presidential documents and being a centre for education, it would also serve as a tourist site to rake in revenue for accelerated development.
CCYDA also called on the Mr Totobi Kwakyi, the Chairman of the committee for the construction of the Atta Mills library to render account on the closure of the facility and all outstanding monies owed the contractor.

Above all, they threatened to demonstrate on the eve of the sixth anniversary celebration of late President Mills if the library was not opened.

The Presidential library, first of its kind in the country comes with a 100-seater capacity auditorium, 45-seater multi-media centre, seminar rooms and a museum that holds historical materials that reflect the life and works of the late President.

It also has a museum, which would be stocked with documents, records, collections and historical materials of the late President and other industrious Africans, a conference facility, offices and a centre to host researchers.

The edifice also has a virtual sound room that echoes the voice of Prof. Mills in his memorable speeches and images that bring to life his sojourn as a celebrated academic, keen sportsman, humble politician, devout Christian, servant leader, President and peace-loving Ghanaian.