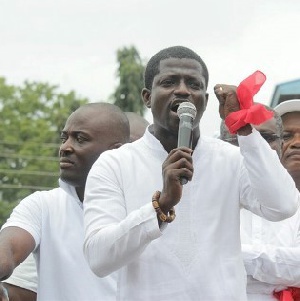 Pro opposition Pressure group, Let My Vote Count Alliance is urging President John Mahama to state government's position on a proposal by the Inspector General of Police (IGP) John Kudalor to block social media on Election Day, December 7.
The group is convinced that it will take only President Mahama's public statement to put the very controversial issue to rest even though the Interior Minister Interior Minister, Prosper Bani, has indicated government will not allow any such move.

Mr Bani has explained that the IGP John Kudalor's report was taken out of context.

"I would like to emphasize that as of today, and within the context of the upcoming elections, neither the government nor any of the security agencies has plans to disrupt social media during this year's election," he said.

Mr Kudalor ignited public anger when he announced the police might consider banning social media use on Election Day to ensure peaceful elections.

He not long ago reiterated his proposal in Ho, the Volt Region capital during a durbar of Police Chiefs.
But, Mr Bani says he has had "the occasion to clarify with the IGP on his out-of-context report on social media."

He was speaking to a joint high-level delegation from the United Nations, the African Union and the Economic Community of West African States (ECOWAS) in Accra on Wednesday.

However speaking on Neat FM on Thursday, Convener of Let My Vote Count Alliance, David Asante stated that the assurances from the Interior Minister is not enough and convincing.

"President Mahama who is a candidate and a major player in the upcoming election must speak on this issue since a ban on social media will have a negative impact on the elections. The IGP has shown that he does not always heed to directives given him. We've had an instance in this country where the IGP was instructed by the President to investigate police brutality against demonstrators who were out on the streets clamouring for a credible voters register. Up until now, not a word has been heard about this investigations into the dastardly act which saw one protester losing an eye. That is why we need President Mahama himself to nail this issue."

Meanwhile, the special representative of the United Nations secretary general for West Africa and the Sahel (UNOWA), Dr. Mohammed Ibn Chambas, has said the UN would not endorse any attempts to ban social media in Ghana during elections.