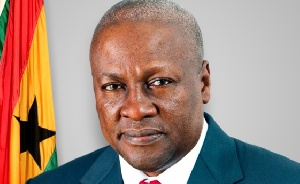 Although John Dramani Mahama has ceased to be Ghana's president, his portraits are still mounted in the offices of ministries, departments, agencies and other State institutions, suggesting he is still the president.
It has been a convention over the years for portraits of the president to be mounted in offices of state institutions.

The supply of the portraits to these institutions have been the duty of the Ministry of Communication.

But two days after exiting office on January 7, portraits of former President Mahama still hang on the walls of offices of State institutions, particularly the various ministries in Accra.

Ministry of Finance and Economic Planning, Ministry of Communications, Ministry of Employment and Labour Relations, Ministry of Health, Ministry of Works and Housing, Ministry of Energy still have the portraits of President Mahama on their walls, Onua FM checks have revealed.
It is not clear why the current President, Nana Addo Dankwa Akufo-Addo's portraits have not yet been provided to these institutions to fix them in their offices.

The Public Relations Officer for the Ministry of Employment and Labour Relations Ministry, Charlotte Hanson, told Onua FM's Kwame Asante former President Mahama's pictures will be changed but could not say when.

Meanwhile, all the minister have abdicated their positions as of Monday when Onua FM visited the various offices of the ministries.