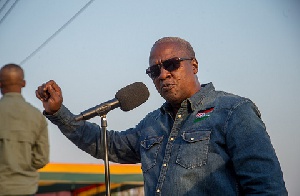 The Executive Director of the Media Foundation for West Africa (MFWA) Sulemana Braimah has backed claims by former President John Dramani Mahama that the media is not critically scrutinising the Akufo-Addo led administration.
Speaking at a NDC Unity Walk in the Central region over the weekend, Mahama averred the media are now treating the Akufo-Akufo-led government with kid's gloves and have turned a blind eye to the excesses of current appointees.

"During my tenure, everything someone does they tag the person 'Mahama boy' or 'Mahama girl' but today the narrative is different. The media refer to people by their names," he told the crowd.

Mr. Braimah speaking on the Morning Starr told host Francis Abban that the media must do more but nothing has changed from how the media operated under the previous administration.
"What the media does currently is the same as what they used to do under the Mahama regime…the media could do better but under the Mahama era, it was the same standard," Mr. Braimah said Monday.