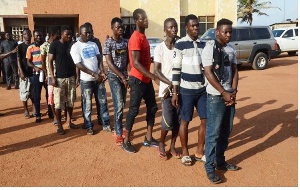 Police prosecutors in Cape Coast have discontinued the case against the first batch of persons who were arrested for their alleged complicity in the murder of Major Maxwell Adam Mahama.
The move is to allow the Police to transfer the seven accused persons, including the assembly man said to have masterminded the killing of the military officer at Denkyira-Obuasi in the Central region to Accra for prosecution.

The seven, all residents of Denkyira Obuasi, were arraigned on a provisional charge of murder on June 1, at the Cape Coast District Court which remanded them into police custody to allow for further investigations into the case.

When the case came up in Court Monday morning, police prosecutors announced that the Police Central Intelligence Department Headquarters in Accra has taken over the case, hence prayed the court to discharge the accused persons.

Counsel for the accused persons, George Bernard Shaw, did not oppose the request by the prosecution.

However, he told the court that the assemblyman, William Baah, has a head injury and prayed the court to order the prosecution to give him medical attention.
He did not explain how Baah had the head injury or the nature of the injury. The court in view of the prosecution's request, discharged the seven persons and struck out the case.