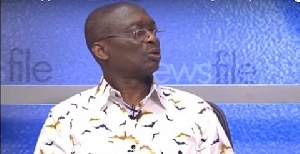 Editor-in-Chief of the New Crusading Guide newspaper, Abdul Malik Kweku Baako, believes though former President John Dramani Mahama's "Animal Farm" allegory did not come out as he (Mahama) might have preferred, those flaying the ex-president have "every right to continue doing so".
According to Mr. Baako, former President John Mahama, who has been acclaimed as a good Communicator, failed to craft his message well when he addressed NDC members and supporters at the party's Unity walk in the Central Region.

Ex-President John Mahama, speaking to his party faithfuls at Cape Coast used an Animal Farm analogy to link the government's National Digital Property Addressing System (NDPAS).

He labeled the NDPAS as a "419" project and asked "how can you launch a Google GPS system that is freely available on our mobile phone and say it is a national addressing system? It is such a pity. Why will you embarrass the president so much?"

"You go and take a whole president to bring him to come and launch a system that is 419.

"When we talk about accountability, this is where the president should show that he is serious about corruption...The toughness of the fight against corruption is that you are able to take action against your own people and that is what we did when we were in office. Here the NPP seems unable to take, the president seems unable to take self-action in anything," Mr. Mahama further stressed.
Former President Mahama also in an attempt to elaborate on his claims made reference to George Orwell's allegorical novel Animal Farm and described the Akufo-Addo administration as a survival of the fittest.

"When they [NPP] were looking for your votes, President Akufo-Addo said they shall open the opportunities of this country to all Ghanaians, irrespective of their party or ethnic affiliations. He came to power and now that the 'pigs' are enjoying, they say some Ghanaians are more Ghanaian than others", he stated categorically.

But seasoned journalist Kweku Baako is disappointed in Mr. Mahama.

To him, Mr. Mahama could have done himself more good than harmd by crafting his words effectively.

He told host Kwami Sefa Kayi on Peace FM's Kokrokoo that the former President made a poor analogy because he cannot say "pigs" at one breath and in another context say "Ghanaians".
Mr. Baako explained that if former President Mahama wanted to make his assertions in the context of Animal Farm, it would have made sense if he had linked the pigs to goats instead of saying "now that the 'pigs' are enjoying, they say some Ghanaians are more Ghanaian than others".

To him, though the former president might not have intended it so, his "pigs" comments nonetheless were a bit distasteful.

"He didn't communicate well. So, those lashing at him; they may have every right to continue doing so. He didn't communicate well...He didn't craft it well," Kweku Baako insisted.