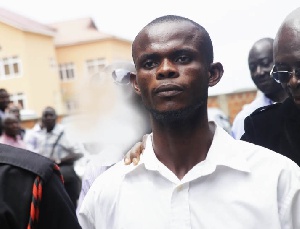 Counsel for Charles Antwi the 36-year-old man who was accused of planning to assassinate President John Dramani Mahama, to save Ghanaians from bad governance and hardship, lawyer Xavier Sosu says his client is doing extremely well.
Charles Antwi was freed, following an appeal filed by Attorney-General and human rights lawyer, Francis Xavier Sosu at the Human Rights Court, to argue decision made by a Circuit Court July 28, 2015.

His lawyer had contended that the convict was of no sound mind and lacks the capacity to stand trial, adding the Circuit Court's decision was so perverse and ought not to be allowed to stand.

Charles Antwi was refereed to the psychiatric hospital for treatment. Speaking in an interview with Kwame Tutu on Rainbow Radio 87.5Fm, lawyer Sosu said per the report presented the Attorney General (A-G), his client has been treated fully.

He revealed that based on the report, they are taking steps to write to the court to allow the client discharged so he connects with his family. According to him, they would the take the steps because it was through that same court, Charles Antwi was ordered to go under psychiatric care.
Per the Mental Act, Charles Antwi deserves to be discharged so far as he has undergone and responded to treatment, he said. He explained that, the case against Charles Antwi would no longer be binding and that he is now a free man.

Charles Antwi on July last year was sentenced to to 10 years' imprisonment by an Accra Circuit Court, presided over by Justice Francis Obiri, for possession of firearms without lawful excuse, contrary to Section 11 of NRCD 9 (1972).

Charles Antwi at the time told the court that the only thing he could do to end the suffering of Ghanaians was to kill the President, just like the former President Jerry John Rawlings did in the late 1970s, because he (Mahama) has mismanaged the country.