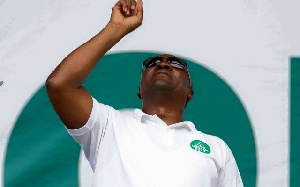 Reverend Isaac Owusu-Bempah was instrumental to see Nana Addo Dankwa Akufo-Addo win the presidential election in the 2016 election.
Many doubted his prophecy about Nana Addo's victory but he was unperturbed and continued to preach a massive victory for Nana Addo which came to pass.

However, the controversial founder of the Glorious Word Power Ministry has again prophesied that former President John Dramani Mahama, will never return to power.

He said Mahama must not heed to calls by some supporters of the National Democratic Congress (NDC) to lead the party in election 2020.
The man of God, who predicted that Mahama would lose the December 7, 2016 presidential election, said God had revealed to him that Mahama's political career has come to an end.

"Mark it anywhere he can never again be President of Ghana," he said in an interview with NEAT FM's morning show 'Ghana Montie'.

"He Mahama can't be a President on this earth again. If he visits any true man of God he will tell him exactly what I have said, so he shouldn't waste his money in 2020," he added.