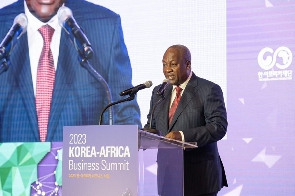 Former President John Dramani Mahama, the flag bearer of the National Democratic Congress (NDC), is scheduled to speak at the Humanity Summit 2023 in Faro, Portugal on Tuesday, 19 September 2023.
The Humanity Summit has emerged as a prominent platform for advocating social change and social justice, primarily focusing on the welfare of humanity.

The annual event is committed to promoting the well-being of humanity through key principles such as Dignity, Equality, and Freedom. Its objective is to expedite global cooperation towards building a prosperous and secure future for all.
President Mahama's participation will extend to a book reading event, during which he will read from his memoir, "My First Coup D'état: And Other True Stories from the Lost Decades of Africa." Additionally, he will share his insights on how social interactions can contribute to instigating meaningful change.

Since concluding his presidential term in 2016, John Mahama has actively engaged in diverse issues and dialogues across Africa and internationally.