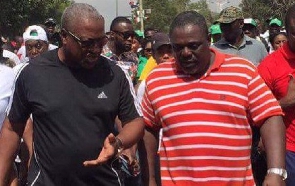 Former Deputy General Secretary of the National Democratic Congress(NDC) Samuel Koku Anyidoho has lashed out at former President John Dramani Mahama for seeking to be President again.
Mr. Anyidoho who is strongly opposed to Mr. John Mahama's bid to be elected president after being voted out in the 2016 elections is wondering why the former President is seeking to return to office to rule.

According to the one-time Director of Communications at the Presidency under late President John Evans Atta Mills, Ghana will suffer both economically and spiritually if Ghanaians vote to elect John Mahama as president.

He contends that there are spiritual repercussions if a chief is destooled and later enstooled.

"You don't destool a Chief and enstool him later. It'd be a curse," Mr Anyidoho told journalists.

The soar relationship between Koku Anyidoho and former President John Dramani Mahama is a matter of public record spanning from the days when the two worked under late President Mills.
Known for his unrestrained criticism of the NDC flagbearer aspirant, Koku Anyidoho suggested that what Mr. Mahama is seeking to do with his reelection bid is alien to the customary and spiritual norms of the country in terms of leadership.

"Another one spiritually is that this sword that the president holds to swear the part of the office, spiritually you can only hold it twice. Jerry Rawlings held it twice in 1992 and 1996.

"President Kufour held it twice in 2000 and 2004. President Mills held it once, he died and he left. John Mahama, on the night of 24th July 2012 you held the sword of State and you swore an oath. On the 7th of January 2013, you held the sword of State and swore again. You held it twice," he said.

While intimating that any attempt to take a third oath of office by Mahama is tantamount to sacrilege, the former NDC Deputy General Secretary added that "Why does John Mahama think that Ghana was created for him and he will come and mess the nation up spiritually and physically? It won't happen and cannot happen".