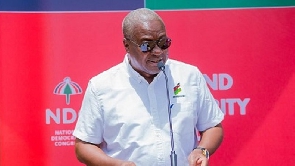 Fri, 29 Sep 2023 Source: Fred Dzakpata, Contributor
Former president, John Mahama will on Monday, October 23, 2023, hold a town hall meeting in Calgary-Alberta in Canada under the theme "Building the Ghana We All Want - Engaging the Diaspora for National Development".
The meeting will foster discussions on matters that resonate with Ghanaians in the diaspora and focus on their shared values and vision.

Before that, Mahama will attend a fund-raising luncheon by the Canada Chapter of the NDC in Toronto Ontario on Sunday, October 22, 2023.

As part of the activities, the former president will also deliver a policy speech on Tuesday, October 24, 2023, at the University of Calgary under the theme "Advancing West Africa's Development Strategy With a Focus On Ghana".

A statement issued by the Canada Chapter of the NDC said the events will provide an opportunity for attendees to gain insights into Mahama's leadership approach and his perspective on pertinent national issues.

"A significant event is on the horizon for the NDC Canada Chapter to host H.E. John Dramani Mahama the Former President of Ghana who's the current flagbearer and leader of the National Democratic Congress (NDC) to a fundraising luncheon in Toronto Ontario".
"Also in Western Canada, Calgary Alberta to be precise, H.E. John Dramani Mahama will be giving a policy speech at the University of Calgary under the theme 'Advancing West Africa's Development Strategy with a Focus on Ghana' and will also engage the Ghanaian community in Calgary Alberta at a town hall meeting under the theme 'Building the Ghana we all want - Engaging the Diaspora for National Development '. This modest gathering seeks to foster discussions on matters that resonate with Ghanaians in the Diaspora and focus on our shared values and vision."

"NDC Canada Chapter members and the Ghanaian Community in Canada at large are reminded to mark their calendar for the 22nd of October 2023 for a fundraising luncheon with John Dramani Mahama in Toronto between 1 p.m. to 5 p.m. EST, and on October 23, 2023 at the University of Canada in Calgary- Alberta between 1 pm. to 5 pm. GMT and October 24, 2023 at a town hall meeting in Calgary-Alberta between 1 pm. to 5 pm. respectively," the statement said.

Mahama will be joined on the trip by the National Chairman of the NDC, Johnson Asiedu Nketia, General Secretary, Fiifi Fiavi Kwetey, other respected national executives, and a couple of NDC Members of Parliament.

Click here to start the nomination process for the 2023 GhanaWeb Excellence Awards
Source: Fred Dzakpata, Contributor