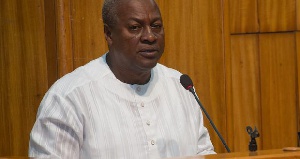 Former President John Mahama has said that Ghana's first president, Kwame Nkrumah founded Ghana and must be given the due recognition on his birthday, September 21.
His posture comes at a time when the New Patriotic Party have cancelled the former government's decision to celebrate September 21 as Founder's Day and has rather set August 4, as founders' day to recognize all who helped Ghana to attain independence.

John Mahama who has confessed his leanings towards the Nkrumahist ideology said in a statement on his Facebook page on Wednesday said "Osagyefo's emergence as the Founder of modern Ghana and an international symbol of freedom was not by accident."

He accused certain elements of making frantic attempts to revise Ghana's history in a way to make nothing of Kwame Nkrumah's efforts.
He said, "It remains a dark irony of our history that, the very political tradition which conspired to truncate his unparalleled vision on 24th February 1966, is today seeking to revise Ghana's history."

"It is an indisputable fact that Nkrumah was the critical spark that put Ghana on a high-velocity path to independence" he added.