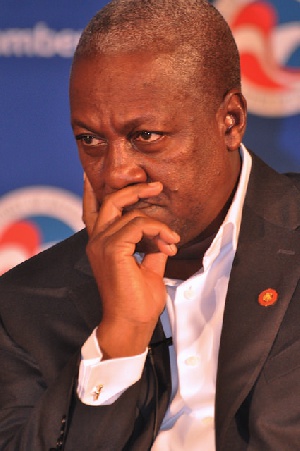 Member of Parliament for Bantama, Henry Kwabena Kokofu, has chided President John Mahama for his haste in always welcoming things into the country which tends to cause fear and panic among the citizenry.
On Wednesday, January 6, 2016, the Ministry of Foreign Affairs & Regional Integration announced that Ghana has accepted a plea from the International Criminal Tribunal to provide shelter for two cleared terrorist suspects of Yemeni origin who were detained in Guantanamo Bay prison by US authorities.

The two were Khalid Mohammed Salih al-Dhuby and Mahmmoud Omar Mohammed Bin Atef.

According to Foreign Affairs Ministry, the two Gitmo detainees were unable to "return to Yemen at the moment, and we have indicated our readiness to accept them for a period of two years after which they may leave the country".

That aside, the Ministry said it had also agreed to provide humanitarian assistance and refuge to some persons from Rwanda, Yemen and Syria.

Following the announcement, a cross section of the Ghanaian populace has criticized the government for putting the country in danger.
Some have even gone to the extent of accusing the government of taking a huge amount of money in exchange of the two Yemeni nationals, whom they argued, will pose a security threat to the country.

Speaking on Peace FM, Hon. Kwabena Kokofu said Ghanaians must not be surprised at the conduct of the Mahama-led Administration, as this is not the first time he's endorsed something against the overwhelming will of the majority of Ghanaians.

"We were here when we heard of clinical trials of Ebola vaccines being conducted in the Volta Regions where the people resisted. Much against the will of Ghanaians, President Mahama sprung a surprise when he allowed an Ebola camp to be set up in Ghana. It appears as though anything that concerns our health and life as Ghanaians is not an issue, whatever is fearful in this world is welcomed by Ghanaians."

He added: "We recently heard of the worrying development that some of our young men have joined the dreaded group ISIS, this got every Ghanaian expressing worrying due to the danger that the issue posed to Ghana as a country, then suddenly we're told that our government has accepted to provide shelter for these former detainees, without even briefing Parliament which is the representative of the people. The president didn't see the good things in America which would be of benefit to Ghana, but only saw these people whose presence in Ghana constitute a security threat. He's rather imported trouble for Ghana. In any case have we been able to find shelter for our displaced fellow Sodom and Gomorah residents" Hon. Kokofu asked.