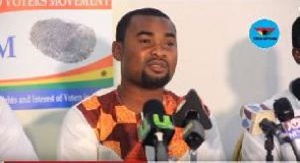 Tue, 2 Jan 2018 Source: Daniel Kaku
The Founder and President of Concerned Voters Movement (CVM), Mr. Razak Kojo Opoku has stated that former President John Mahama's statement on calling NDC members to sympathise with his former appointees who may be indicted in any corruption probe under Akufo-Addo led administration is in a way supporting NDC members to be corrupt.
Speaking at the 31st December Revolution Anniversary held at Ho in the Volta Region, Mr. Mahama welcomed the move by President Akufo-Addo promising to prosecute his former appointees for corrupt acts, asking party members to support colleagues who may be indicted.

"Recently, President Akuffo Addo was threatening members of our administration with prosecution when he visited the Eastern Region and I said yes, we are prepared to accept the probity of our tenure in office. Having been the disciples of probity and accountability, we must not run away from probity and accountability, we must be prepared to face any prosecution that this government throws to us, but we must do this with commitment and solidarity", he explained.

In a sharp rebuttal, Mr. Razak Opoku has said that former President Mahama's statement is a threat to the corruption fight in Ghana.

According to him, "Majority of Ghanaians view John Mahama's statement as totally bogus and affront to probity and accountability".
He, therefore, called on the Civil Societies and Anti-corruption groups to condemn the statement of former President John Mahama without any victimization.

Mr. Razak Opoku has encouraged President Akufo-Addo to stand firm and not to be discouraged by former President Mahama's statement hence brought any corrupt official in the erstwhile Mahama's administration to book.




Source: Daniel Kaku