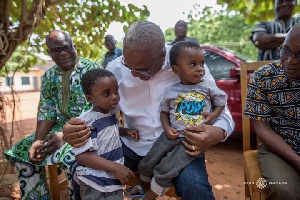 Former President John Mahama on Friday paid a family visit to the widow of his slain nephew, Barbara Mahama, and her children at the Burma Camp.
Mahama who was seen holding his grand-nephews in a photo wrote on his Facebook wall "With my nephews & their mother, Barbara, during a visit to their Burma Camp home".

The soldier, Adam Mahama, was gruesomely lynched and partly burnt by some youth of Denkyiraboase in the Central Region, who claimed they thought he was an armed robber.
He had gone to that part of the country on an anti-galamsey mission with other soldiers.