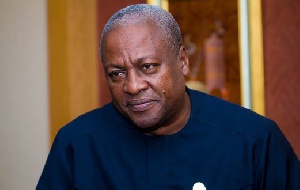 Member of Parliament for Effutu, Alexander Afenyo-Markin, has advised former President John Mahama to be careful with his choice of words in public otherwise he will soon lose respect as a statesman and a former president of Ghana.
"People will expect that a retired president will be nationalistic in the words use and not like how former President Mahama spoke at their unity walk," Mr Afenyo-Markin said on TV3's New Day magazine show Monday morning The MP was responding to former President Mahama's comment on the 2.5 million-dollar GhanaPost Digital Address system launched last month.

Many cyber and tech experts have raised concerns over some basic technical flaws in the system which was touted as the solution to Ghana's poor address system. Commenting on the system at the National Democratic Unity Walk last weekend in Cape Coast, former Mahama described it as "419" and an embarrassment to President Nana Akufo-Addo.

He questioned why President Akufo-Addo was made "to launch a Google GPS system that is freely available on our mobile phone and say it is a national addressing system.

Why will you embarrass the president so much? You go and take a whole president to bring him to come and launch a system that is 419". But Mr Afenyo-Markin has taken exception to former President Mahama's comment on the digital address system, suggesting the comments were pure propaganda.

"I would want to appeal to our former president that if he wants to do propaganda, he should do it clearly…he should state them by way of fact else you would lose respect because if the product [Ghana Post GPS App] has already been in the system, he should provide the document.

You were in office for eight years…at what point did you deploy it…if you deployed it, let us know," Mr. Afenyo-Markin hit back at president Mahama. He added: "He [former President Mahama] cannot be described really as a retired president.
He would want to remain politically active because of his will to contest" On Mahama's assertion that the apology letter issued by Ghana's High Commissioner to the South Africa, George Ayisi Boateng, was forced, Mr Afenyo-Markin defended the embattled high commissioner. "If we enter into to party meetings, we speak party language.

If I meet my party people, I need to tell them party talk and there is nothing wrong with a politician talking party language to party people", he argued. He said he was surprised that former President Mahama questioned the leadership of President Akufo-Addo on claims that the Flagstaff House was involved in getting Mr Ayisi Boateng to apologise.

Mr. Anfenyo-Markin said Mahama "is being insincere with his criticisms". The Member of Parliament for Adaklu, Kwame Governs Agbodza said, said he did not see anything wrong with President Mahama's comment on the digital address system because he was the first person to speak about the system.

"Experts have spoken about it and anything that improves how we find our way is critical. The idea itself is not bad but the question is what went into the $2.5m," he said "The basic data upon which we derived the app from was already in existing.

Even right now, without using what they did, you can still find our locations so I believe the government can do better by telling us what the provider is supposed to do", the MP added.