Ivorian president Alhassane Ouattara, and the President of Niger, Issoufou Mahamadou, have arrived in Accra for the 5th Economic Community of West African States' (ECOWAS) Presidential Task-force meeting on the attainment of a single currency by 2020.
They were received at the Kotoka International Airport by Vice President Dr Mahamudu Bawumia.

Also in attendance are governors of Central Banks and foreign Ministers from the ECOWAS.

The meeting will be chaired by President Nana Addo Dankwa Akufo-Addo

The Presidential Task Force meeting was preceded by two meetings namely:

• The 6th Technical Meeting of the Presidential Task Force, 17-18 February 2018.

• The 2nd Ministerial Meeting of the Presidential Task Force, 19-20 February 2018.
The Technical meetings were attended by representatives of the Ministries of Finance and Economy of Cote d'Ivoire, Ghana, Niger and Nigeria, Central Banks of ECOVAS Members State, and the regional institutions involved in the ECOWAS Monetary Cooperation Programme (EMCP), namely the ECOWAS Commission, UEMOA Commission, West African Monetary Agency (W AMA), West African Monetary Institute (WAMI) BCEAO and the United Nations Economic Commission for Africa (UNECA).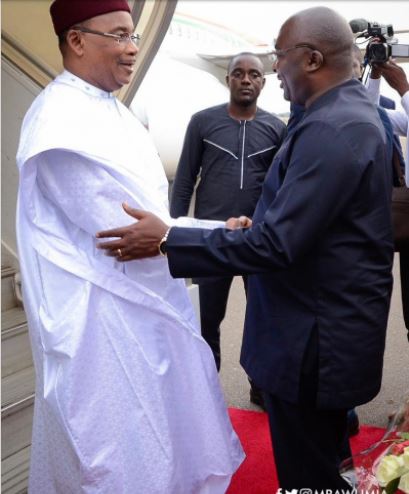 The meetings among other things provided member countries with a common platform to deliberate on issues related to the ECOWAS single currency programme and consider or adopt a revised roadmap to accelerate the creation of the single currency by 2020.

The last meeting of the Presidential Task Force on the ECOWAS Single Currency Programme was held in Niamey, Niger in October, 2017.

Roads to be closed for ECOWAS summit

The Accra Regional Police Command has announced that some roads in the capital will be closed temporarily ahead of the 5th Meeting of the Presidential Task Force of ECOWAS on Single Currency on Wednesday, 21 February 2018.
The Osu Cemetery Traffic Light on the Castle Road to AU Circle and the Independence Avenue road through the 37 interchange to the AU Circle will be the affected areas.

The police will assign officers at vantage points to offer needed assistance to motorists.

"It must however be noted that only security vehicles and those carrying dignitaries would be allowed passage after thorough checks. Unmarked vehicles would not be permitted to park or drive through these roads," a statement signed by Accra Regional Police PRO ASP Effia Tenge said.

The police further urged the public to cooperate and apologised for any inconveniences that may arise as a result of the arrangement.