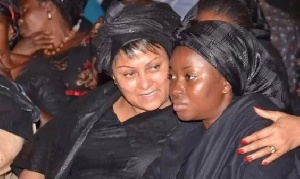 It was a solemn moment when the mother of late Major Maxwell Adam Mahama read a heartwrenching tribute to a deceased son. Veronica Bamford recalled Major Maxwell Adam Mahama "was such a special child", someone, she said made her a "mother for the first time".
In that emotional tribute, the slain soldier's mother recounted an instance where he shed tears for his son's pet – dog – that died, painting a picture of an affectionate and a caring person who had a "pure and lovely heart ".

The senior military officer was murdered by residents of Denkyira-Obuasi in the Upper Denkyira West district of the Central Region on May 29, 2017. Those who lynched him said they thought he was an armed robber because he was carrying a pistol on him.

Major Mahama was given a state burial which was held at the forecourt of the State House in Accra on June 9, 2017 with full military honours.

Veronica, who is the sister of former Speaker of Parliament Joyce Bamford-Addo, noted that Major Maxwell Mahama loved his family "fiercely". "I am so proud of a son I raised, who took care of others and who protected the nation and displayed true manhood in how he cared for his wife and kids," she recalled.

"I am falling into pieces; tell the killers they have destroyed me; tell them he was a very special son forever my boy," she declared.
She remarked how Maj. Mahama loved his country and vowed to protect its citizens, which explained why the senior military officer gave himself up to be killed when he could have killed several people with the gun he was carrying but did not fire at his attackers.

The mother, casting her mind back to the grisly murder, prayed no woman suffers the trauma she has been subjected to again. "I hope I do not completely lose it or go crazy.

Please do not let this happen to another mother," the poor woman pleaded. Although she said she knew death was inevitable and therefore did not fear dying, she never thought the "gruesome and the horrific way my poor baby was snatched from this earth is beyond words.

As if my heart has been ripped from my chest, I feel hollow, just moving about like an empty shell. "My baby is gone forever. His life was cut short in the most violent and disgusting way.

I need an answer to my question – why?." The funeral service was attended by Ghana's Vice President, Dr. Mahamudu Bawumia, former President John Mahama who is a close relative, ministers of state, Members of Parliament, military heads and several other dignitaries.
The late Major Maxwell Adam Mahama was born November 1985. He was survived by a wife and two kids.