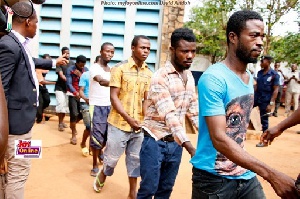 Fri, 4 Aug 2017 Source: GNA
The prosecution in the murder case of Major Maxwell Mahama has told the Court that they are on a manhunt for 13 more suspects who took part in the murder of the soldier, at Denkyira Obuasi in the Central Region.
Prosecuting Deputy Superintendent of Police (DSP) George Amegah, therefore, prayed the Court for an adjournment, saying his team had also forwarded the duplicate docket to the Attorney General's (AG's) Department for advice.

The Court then adjourned the matter to September 7, to allow the Police more time for their investigations and also to wait for the advice from the Attorney-General.

At the last sitting, the Court commended the Prosecution for acting expeditiously to prosecute the case, saying the Prosecution, for once, had dealt with the matter speedily and he (the judge) was happy about the turn of events so far.

The Prosecution had earlier asked the court to discharge all the accused persons because further investigations had led them to charge 19 out of the 32.
They later added an additional person, bringing the number of those standing trial to 20.

He said some of them would be used by the Prosecution as witnesses.

Major Mahama was on national assignment at Denkyira Obuasi when on May 29, he was lynched by some residents of Denkyira-Obuasi, who allegedly mistook him for an armed robber because he had a pistol in his back pocket.

The mob ignored his consistent plea that he was an officer of the Ghana Army.
Source: GNA