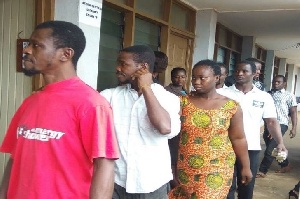 The Accra Central District court presided by Ebenezer Kwaku Ansah has adjourned the case involving the murder of Major Maxwell Mahama to September 7.
Twenty suspects are standing trial for their alleged involvement in the murder of the late Major who was an officer of the 5th Infantry Battalion.

The officer met his death while on his daily jogging routine on Monday May 29 in Denkyira-Boase in the Central Region when some angry youth of the community attacked him on suspicion that he was an armed robber.
After the court hearing on Thursday, 3 August, lawyer for the suspects, George Bernard Shaw indicated that he would file an application in the High court to secure bail for his clients.

Accra News' Ama Brako Ampofo who was in court reported that the lawyer said he did not think the District Court had the capacity to grant his clients bail.