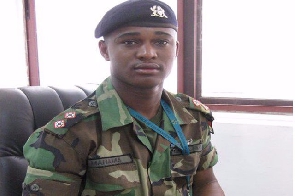 Justice Mariama Owusu, a Justice of the Supreme Court who is presiding over the trial of the 14 persons accused of lynching Major Maxwell Mahama as an additional High Court has instructed his security to provide escort for 'scared' defence lawyer, George Bernard Shaw.
This was after George Bernard Show was on Monday, November 14, confronted by an Uncle of the late soldier for defending the accused persons, who since become "scared" of his life.

Justice Owusu, after the incident was brought to her attention instructed her security guard to assist counsel to his vehicle anytime the case came up.

On Monday, November 14, drama unfolded at the Criminal Division of the High Court in Accra when a 70-year-old man who described himself as Uncle to the lynched Major Maxwell Mahama confronted the lawyer who was addressing the jury.

Lawyer Shaw, counsel for some of the 14 accused persons including, William Baah, while addressing the jury with his closing remarks following the conclusion of evidence urged them to free his client.

According to Counsel, William Baah, said to be the assembly man for Denkyira Obuasi and is charged with Abetment, had not directly or indirectly instructed anyone to pick weapons to go and kill him.
Lawyer Shaw had also told the jury that, the Assemblyman was also not directly or indirectly involved in the lynching of the young soldier, adding that he was not at the scene of the crime at the time of his death.

Counsel's line of address to the jury including claims that the late soldier fired a gun at the accused persons provoked, George Bamford who was in court to monitor proceedings.

The visibly incensed George Bamford who was pointing fingers at the accused persons in open court amidst curses, had to be restrained by Court Warrant Officers to avoid a physical scuffle, when he confronted Lawyer Shaw.

George Bernard Shaw who spoke to EIB Network's Legal Affairs Correspondent, Murtala Inusah, after concluding his address to the jury said he feel "scared" after the incident.