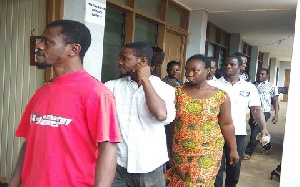 The Central District Magistrate Court has remanded all accused persons who are being held for the murder of the Major Adams Mahama to Nsawam prisons.
This was after the prosecutor DPS George Amegah had prayed the court for them to be sent to prisons custody instead of police cells.

The prosecutor told the court the suspects were being held at different locations by the police and that is creating more problems for the police.

Kasapa FM's court correspondent, Daakyehene Ofosu Agyeman reported that a lawyer for 8 accused persons among the 19, Charles Owusu Juanah told the court that he has information that one suspect (at large) involving the case has been killed.

But the Judge said it has not come to his knowledge and the prosecution also said they are not aware of it. The lawyer therefore pleaded with the court to send them to prison for safety.

He disclosed that the duplicate docket is on its way to the AGs departmemt. Charlse Owusu Juanah said he had no objection to that move, but urged prosecution to speed up their investigations.
He differed a bail application saying he wants tension to come down before he applies.

Case adjourned to August 3.

Late Major Mahama who served served with the 5thInfantry Batallion (5BN) at Burma Camp in Accra but was Commander of a detachment in Denkyira Boase in the Central Region was lynched and set on fire whilst jogging on Tuesday May 29.

He was mistaken by the residents to be an armed robber after a pistol was found tucked beneath his dress while he engaged a snail seller during his jogging.