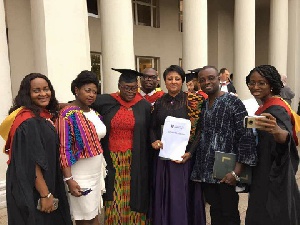 Mother of the late Major Mahama who was lynched in Denkyira-Obuasi, has received his master's degree certificate on his behalf in the United Kingdom.
Veronica Bamford is seen in a photograph on facebook,holding her late son's masters degree certificate.

Major Mahama,who was an officer of the 5th Infantry Battalion,was alleged to have been jogging when some residents of Denkyira Obuasi 'mistook' him for an armed robber and lynched him.

Major Maxwell Adam Mahama was on Friday June 9, 2017 was given a state burial at the military cemetery in Osu after he was mistaken for a robber and killed by residents of Denkyira-Boase in a mob attack.
There are still conflicting accounts as to circumstances that led to the death of Major Maxwell Adam Mahama who was the platoon Commander at Denkyira-Boase in the Upper Denkyira West District of the Central Region.