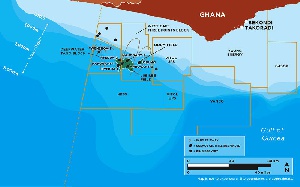 Mon, 26 Jul 2010 Source: --
Tullow Oil said it has found a significant column of excellent quality light oil when drilling the Owo-1 exploration well in the Deepwater Tano licence offshore Ghana.
Results of drilling, wireline logs and samples of reservoir fluids have established Owo as a major new oil field requiring further appraisal, it added.

The deviated well, located approximately 6km to the west of the Tweneboa wells, has encountered a gross vertical reservoir interval of 154 metres containing 53 metres of net oil pay in two zones of high quality stacked reservoir sandstones.

Pressure data indicates that these zones are part of the same accumulation and samples show that it is a light oil of between 33 and 36 degrees API.
Exploration director Angus McCoss said: "Owo-1 has made a very substantial light oil discovery and continues the success of Tullow's Equatorial Atlantic exploration campaign in West Africa."

"Given this success, we are immediately drilling an appraisal sidetrack to further assess the size of this find. Accelerated appraisal drilling will now focus on maturing the resources in both Owo and the adjacent Tweneboa accumulation towards commercialisation."
Source: --