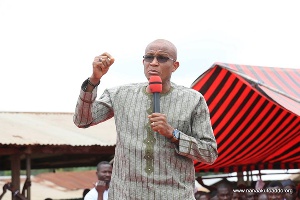 Muslims must come together and vote for Nana Akufo-Addo and Dr. Bawumia in the upcoming election in order to facilitate a Muslim presidency in the future, spokesperson for the NPP flagbearer Mustapha Hamid has said.
According to him, Muslims must show the desire in the Presidency by voting for the Nana-Bawumia ticked since the former governor of the Central Bank is a practicing Muslim.

Addressing supporters of the Danqua-Busia-Dombo tradition in the Eastern region, Mr. Hamid who is also a university lecturer, said if Dr. Bawumia and his flagbearer are rejected again for the third time, it will be difficult for any Muslim to rise to the highest office of the land.
"...My brothers and sisters Muslims gathered here, we are educating ourselves with the aim of one day becoming the President or Vice President. But we presented our own brother Dr Bawumia twice, in 2008 and 2012 but we did not accept him and help him become the Vice President.

"For the third time if we reject him, in the future when ever any of us is looking for a high office of the land to occupy, no body will entrust that office into our hands. Because it will be said that Muslims don't value what is good. I'm also telling you that when NDC comes and says they love Muslims more than the NPP, please ignore them, tell them that is not true," Mustapha noted.