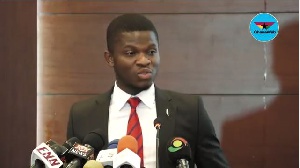 Members of the opposition National Democratic Congress (NDC) continue to express how unperturbed they are with the appointment of Martin A.B.K Amidu as the Special Prosecutor.
Sammy Gyamfi, a member of the communications team of the party has slammed the appointing authority stating that not even the appointment of Lucifer as the Special Prosecutor will not stop them from speaking about the ills in the current government.

"They can make Satan the Special Prosecutor we care less. He will still work in accordance with the laws of Ghana. If he will go according to laws regardless of who is involved we have no problem at all with him. Claims on social media by some NPP supporters that he is coming to jail NDC members should seize because we are not scared of him. They should stop talking because we are deaf to such comments", he said on Adom TV.

He said Martin Amidu is no stranger to the NDC and therefore members are able to tell what he is capable of doing and what he cannot.

"We know Martin Amidu inside-out and can tell what he can do and not. He is the longest-serving Deputy Attorney General in the country right from the days of the PNDC days who has he been able to prosecute and jailed? I am daring you to prove me wrong, not even a fly has he jailed as a state attorney. We are not scared of him because we have not committed any crime. Let no one create an impression we fear Martin Amidu, we do not at all", he added.
Mr Gyamfi wants persons who may be indicted in corruption cases to be given a fair hearing at the courts with legal representation.

"Those indicted also have their rights to be heard in court and be represented by their counsels. Former President John Dramani Mahama said he was never going to shield anyone found to be corrupt in his administration that is how come Abuga Pele and others are still in court over the GYEEDA scandal" he explained.

The Special Prosecutor in his assessment is not a judge and cannot out of his own volition throw someone into jail.

"It is just a way to safeguard the national purse which we are all happy about provided it will be done in accordance with the law.Martin Amidu is a human being and a Ghanaians and the President.We are assessing his competence to see if he is fit for the job", he concluded.