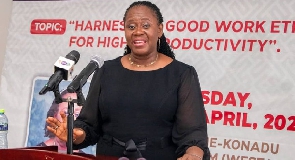 The Chief Justice, Gertrude Torkornoo, has urged staff of the Judicial Service to see themselves as Ambassadors of the Service and the concept of 'justice' itself.
She said the Judicial Service is a Public Service and members must therefore be honest, fair and transparent in their dealings with the citizens who seek justice.

Justice Torkornoo, was speaking at a Community Sensitization Programme, held alongside the inauguration of some Courts in five Communities.

It was an interactive session with members of the beneficiary communities including Baatsonaa, Kwabenya and Ada in the Greater Accra Region, and New Abirem and Akwatia, in the Eastern Region.

At Baatsona, Justice Gertrude Torkornoo, explained the work of the Judiciary and how court users can help keep Staff on their toes

The message was similar at Kwabenya, where the Chief Justice answered questions on justice delivery.
At New Abirem in the Eastern Region, Justice Gertrude Torkornoo, said, it is her goal, to rid the Judicial Service of acts by staff which put the integrity and work of the Service into disrepute.

At Akwatia, the Chief Justice encouraged staff of the judicial service to make the Courts friendly to litigants.

The Chief Justice's Community Sensitization program, is on the theme" Improving Justice Delivery through Community Engagement.

The initiative is to educate the public on the existence of the Public Complaints Unit among other interventions by the Service, to make justice delivery transparent.