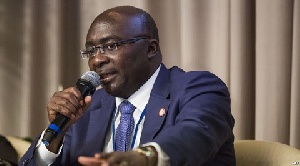 Vice-President Dr Mahamudu Bawumia has called on Ghanaians to embrace electronic payments as part of their daily transactions.
"Let me add my voice to the call to the public at large to adopt electronic payment as a way of life," he said at the launch of the second phase of the Mobile Money Interoperability project on Wednesday, 28 November 2018 in Accra.

He pointed out that: "We really do not have an excuse and you can use your mobile wallet, your Ghana-link card or your e-zwich card to make payments".

The vice-president congratulated all stakeholders who have made the project a success and entreated the stakeholders to work to ensure that majority of the country's population use and benefit from the new electronic payment systems available.

In March 2017, the vice-president inaugurated the Mobile Money Interoperability Project, and on 10 May 2018 launched Phase One of the project in Accra.
The Ghana Interbank Payment System (GhIPSS) was tasked to lead the project together with three mobile money operators: MTN, Vodafone and Airtel/Tigo, as well as financial institutions.

Phase Two saw the interconnection between Mobile Money and e-zwich (Ghana's biometric smart card).

This makes Ghana one of the few countries in Africa to achieve universal interoperability that ensures the connection of bank accounts, mobile money wallets and e-zwich, thereby allowing a seamless flow of financial transactions.