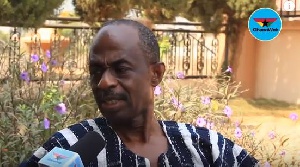 The National Democratic Congress (NDC) has described as 'malicious' and a mere diversionary tactic, a move by the governing New Patriotic Party to prosecute former COCOBOD CEO, Dr. Stephen Opuni and businessman, Seidu Agongo.
The party describes the trial of the two as a 'politically motivated harassment' aimed at shifting attention from the several corrupt acts by the sitting government's functionaries.

Citing a number of instances including the award of 11 contracts to a sister-in-law of the Chief Executive Officer of the National Lottery Authority, Kofi Osei Ameyaw in a day as well as the sale of some 1.8million litres of crude oil at a discount that has allegedly led to a GHS23million revenue loss to the state.

A statement signed by General Secretary Johnson Asiedu Nketiah says the Akufo-Addo-led government has devised a scheme to use malicious prosecutions of NDC functionaries to curry favour with the electorate in the hope that a false notion of anti-corruption would form the basis of their re-election in 2020.
The statement adds that the publication of the charges even at a time when Dr Opuni and his counsel had not been informed of the development, runs contrary to "decent and professional conduct", a move the party says it condemns in the strongest possible terms.

Read the full statement below: